This is how I packed all my whitewater catarafting equipment for a month long expedition on the Rio Marañon in Peru. I did this excursion in 2013. It was really surprising to me how well the packing and transportation of all this equipment onto an airplane went! It was a lot of work to package everything perfectly, but very doable. The photo above is EVERYTHING!! Everything as I am getting organized and laying it all out in preparation for packing it up in a few boxes and specialized NRS bags for easier airline travel.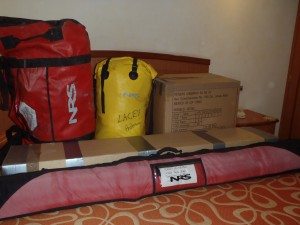 I took everything I needed to run one of my boats while down there. A 15´NRS Cool Cat cataraft,  breakdown frame, all my PG (life jacket, helmet, splash jacket, multiple throw bags, first aid kit) boat repair kit, sleeping bag, tent, clothing, etc.
There were a couple of NRS carrying pieces that helped tremendously: 3 breakdown oars fit very nicely in a single NRS kayak paddle bag and the NRS boat bag made my cataraft easy to carry. The airlines did not even double check these two items!
I even flew with some of the group food! I had the responsibility of meals for about 9 days for 18 people. Obviously I used my "No Coolers" techniques.
The photo above is some of the food I packaged up in the USA and then transported via airlines to Peru.
Note: I had to make some modifications to the menu once I was in Peru and doing the food buy because there are different products available in the supermarkets and local mercados. We had some great Peruvian dishes on the river though – CauCau, Locro, Lomo Saltado, Vegetarian Lentils, Sardine Stew. Lots and lots of french fries and potato dishes. One has to keep an open mind about food and use the food products that are available. For me that is one of the joys of traveling!
This was my part of the 29 day menu:
BREAKFAST (Every Day – fruit – cut up, set out first thing in morning as coffee/tea is being prepared & Café de Mexico, Coffee, Tea, sugar, cream & possible the rice pudding drink)
Orange Julius (or other juicy fruit) Parfait, Scrambled Eggs, Pan
Vegetarian Breakfast Potato Hash w/Eggs & meat on the side
Fried Egg Sandwiches – served with Canadian Bacon or similar meat
Fruity Breakfast Rice
Granola, Assorted Cold Cereal, Yogurt, Milk
Vegetarian Breakfast Potato Hash w/Eggs & meat on the side
Granola, Assorted Cold Cereal, Yogurt, Milk
Oatmeal, Raisins, Milk
LUNCH (Every Day – PB & J option)
Taco Salad
Served with: Flour Tortillas
Romaine Lettuce
Salsa & Rajas
Asian Couscous salad
Served with: GORP
Fresh Fruit (Apples & Cheese)
Chinese Chicken Salad (vegetarian option as well)
Served with: Deviled Eggs
Gazpacho con Oyster Crackers
Served with: French rounds topped with cheese
Trail Lunch (crackers, cheese, GORP, salami, nuts, dried & fresh fruit, cookies, etc….)
Pasta Salad
Served with: Salami & Rajas
Celery/Apples (jicama,etc) with Peanut Butter
Asian Couscous salad
Served with: GORP
Apples/Celery Peanut Butter or Dried Fruit
Jerky
Happy Hour
Pina colada mix in a can  —  Powdered margarita or homemade margarita  —  Rum and pina juice  —  Good sipping tequila  —  Red Wine
DINNER
Italian
Appetizer: Sardines / Oysters / Cheese & Crackers
Main Course: Spaghetti con Marinara Sauce
Add fresh onions, garlic to sauce
Veggies in Spaghetti
Fried Salami or Chorizo on side
Served with: Green salad & Dressing
Garlic Bread
Dessert: Chocolate and Red Wine
Mexican
Appetizer:  Guacamole & Chips (if no chips look at crackers or even dry breads [sliced thin]) & Jicama con lemon and chili powder
Main Course: Vegetarian Burritos (potatoes, onion, carrots, basil)
Served with: FD Ground Beef or/& TVP
Cheese
Frijoles
Spanish Rice
Creamy fruit salad
Dessert: Sweet Peach Buns
 American Mexican Fusion
Appetizer: Pringle / Chips and Dip
Main Course: Sonoran Hot Dogs (Bolillos [Mexican Roll] wrap hot dog in bacon before grilling, grilled onions & peppers, tomatoes, salsa, pinto beans, guacamole, cheese)
Served with: Veggie Lentils or Pinto Beans
Green Salad & Dressing
Dessert: Cookies
American Mexican fusion
Appetizer: Sardines/oysters/cheese & crackers
Main Course: Hearty Vegetable Chowder (Clam Chowder Option)
Grilled Cheese Sandwiches
Served with: Canned Baby Clams
Crema Carrot Slaw
Dessert: Veracruz Key Lime Dessert
Chinese
Appetizer: Soup (dry package)
Main Course: Late Trip Stir Fry (if canned veggies not available, use fresh)
Served with: Instant Rice
Dessert: Nilla Vanilla Fruit Pie
Greek
Appetizer: Greek Platter (salami, cheese rolls, olives, Dolmas, etc) or Soup
Main Course: Gyro (thinly sliced fatty meat [spices: salt, paprika, pepper, garlic, oregano] – fried, tomato, onion placed inside Pita or rolled in Flatbread. Really good with some fried potato in gyro)
Served with:  Lime Slaw
Fried Potatoes
Veggie Lentils
Dessert: Cookies
American
Appetizer: Pringle Chips and Dip
Main Course: BBQ Pulled Pork Sandwiches (or any other kind of BBQ easy meat) or Sausages con Sautéed Onions on Rolls & spicy mustard
Served with: Fried Potatoes
Coleslaw (Chinese sauce [white wine vinegar, olive oil])
Dessert: No-Bake Cheesecake or Peruvian similar
American Mexican fusion
Appetizer: Cracker, Tomato Rounds topped with Mozzarella and Basil
Main Course: Minestrone con FD Pollo & Papas (vegetarian & pollo op.)
Quesadillas (vegetarian op. & Peruvian sausage, con cheese)
OR Grilled Cheese Sandwiches
Served with: Sweet & Sour Salad
Dessert: Platanos (rum, sugar, crema)
Italian
Appetizer: Tom Soup
Main Course: Linguine with Sun-dried Tomato Cream Sauce & Salmon
Served with: Caesar Salad
Dessert: Creamy Fruit Salad, Sweet Bread, Sweetened Condensed Milk
I also discovered and made a really yummy Peruvian dish while on the river – Chicken (and vegetarian) CauCau.
The transport of equipment, to Peru and back home to the USA went very smooth.
No Problemas – Nada!