Many of Mexico's best whitewater rivers can only be rafted during the monsoon season. This is when little creeks become raging whitewater rivers. We were headed for the put-in of the Mulatos-Aros river to do a one hundred and forty mile exploration. This would be a second descent.
Our truck was slowly crawling along a muddy four-wheel track in the plateau country of Copper Canyon, Mexico. A monsoonal downpour raged as lightening struck and vibrated the ground all around us. I was exhilarated and terrified as each lightening bolt lit our path just enough to catch a momentary glimpse of the jagged mountain silhouettes of sub-tropical Mexico. We had spent an entire day driving since our last stop at the small village of Sahuaripa. Many hours later we were still driving, determined to get to the put-in before midnight.
We had just climbed out of one canyon and were barreling down into another canyon only to be stopped dead in our tracks. The five of us looked wide-eyed with disbelief at what lay in front of us. The normally dry creek bed was flashing! High water roared across the road. We were stuck and could not drive through the arroyo. The only thing we could do was set up our tents and roll out the sleeping bags right there in the muddy road to wait out the flooding arroyo.
By noon the next day the flood had subsided enough for us to tentatively drive through the slick mess. Later that afternoon we reached our launch destination, two days late. Good thing I had packed a menu such as the one you will find in my cookbook "Camp Cooking WITHOUT Coolers II". If I had packed the traditional rafter's menu with coolers full of ice dependant meals we would have been in trouble. Some of our food would have been spoiled and the rest would have been well on its way to spoilage.
"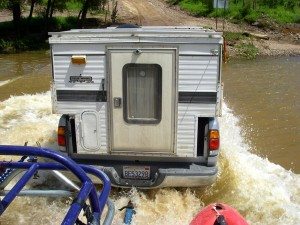 The next eight days on the Mulatos-Aros River were a delight with exceptional scenery, class IV rapids and good company. The Mulatos-Aros River turned out to be one of the best long-distance river expeditions in Mexico. Only one village is passed the entire trip. The water is clean, reliable, and big. There are fun class III and IV rapids almost every day and interesting side canyons to hike, including two narrows and warm clear swimming holes.
Since the Mulatos-Aros exploration was a great success we were stoked and eager for our next adventure on the Conchos River. Even better we did not have to hunt down a store in rural Mexico that would have good food and quality ice because I had the next four days of river meals waiting in our truck, all packed up and ready to go – no ice needed!