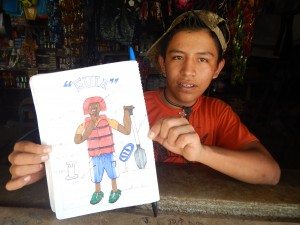 Deep in rural Guatemala, expedition rafter Lacey Anderson employs a whiteboard and the common language of rivers to bridge the communication divide and train a group of indigenous Mayans to be river guides.
With a marker and small whiteboard in hand, I began illustrating hydrology to a group of Mayan Qéqchi´ river guide trainees. Their positive attitude and fun-loving ways felt familiar to me, even though I was deep in the heart of the Guatemalan jungle—these good vibes are common in the guiding industry. Standing on a dirt floor, in the entryway of a primitive plank wood house, I held up a tiny whiteboard to illustrate some river running principles to the young men who didn't speak English, and whose native tongue was Qéqchi´. Grinning from ear to ear, I could see that these young recruits had many of the same traits as guides I had worked with closer to home.
So, how did I end up in rural Guatemala teaching indigenous Mayans to be river guides? As a person who has been involved with whitewater for over 25 years, many of those years as a professional guide, it was a natural extension of my passion for rivers. Like many guides, I enjoy new experiences that challenge my limits. It is this sense of adventure that has led me to rivers all over the western US, throughout Mexico, Peru, and Guatemala.
Through my connections (and guides usually have lots of connections!) in 2012 I was fortunate to join an experienced group of guides and river runners in an attempt to run the second descent of "the most beautiful river in Central America." We never made it. The indigenous people, wary of outsiders potentially connected with mining or hydroelectric interests, detained us, and were prepared to
To continue reading the NRS article