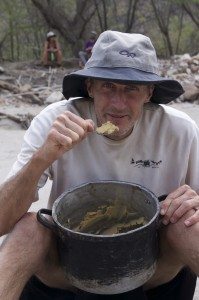 Here is a portion of my menu for a 29 day river trip in Peru set to begin on June 4th, 2014. I am responsible for feeding a group of 19 hungry boaters breakfast, lunch, and dinner for at least 8 days. True, the majority of the food will be bought in Lima Peru at traditional mercados, so the menu is somewhat different than what you can get from our fancy supermarkets in the USA, but I hope this can still give you some ideas your upcoming summer camping trips.
DINNER
Mexican
Appetizer: Hummus, Crackers, Olives or sardines / oysters
Main Course: Bean Burritos/Tostidos with Refried Beans Deluxe Served with: soup, non-perishable meat an option, Cheese, lettuce, tom
Salad: Mulatos Slaw Topping, Sweet & Sour Salad
Dessert: Platanos Foster de Mexico
Puruvian
Appetizer: Peruvian Snack Mix
Main Course: Fish Stew over Peruvian Rice (vegetarian stew too)
Served with: Fried Plantain & Black Beans & Steamed Squash
Dessert: Key Lime Dessert de Veracruz
DINNER – *1ST DINNER*
Peruvian Mexican Fusion
Appetizer: Tostidos Picante or Guac & chips
Main Course: Peruvian Tamales (meat & veggie)
Served with: Corn Tortilla, Refried beans deluxe, Rice, Avo, Salsa
Salad: Crema Carrot Slaw
Dessert: Nutella Treats de Mulatos
*EARLY during trip DINNERS*
Tex Mex Burritos
Appetizer:  Salsa & Chips & Jicama con lemon and chili
Main Course: Vegetarian Burritos (potatoes, onion, carrots, basil) Served with: Peruvian Rice, Meat, Cheese, Refried beans deluxe
Salad: Creamy Fruit Salad
Dessert: Peach Leche Cake

Italian
Appetizer: Sardines / Oysters / Cheese & Crackers
Main Course: SR Spaghetti con Marinara Sauce and sautéd vegetables
Served with: Fried Salami / Chorizo, Garlic Bread
Salad: Green salad, Dressing
Dessert: Coconut Cream Pie
*MIDPOINT during trip DINNERS*
 American Mexican fusion
Appetizer: Cracker, Tomato Rounds topped with Mozzarella and Basil
Main Course: Minestrone con Vegetables y Garbonzos, Pollo, Grilled Cheese Sandwiches or Dinner Polenta
Served with: Home-made Potato Chips
Dessert: Key Lime Dessert de Veracruz

Peruvian
Appetizer: Vegetarian 5 Spice Oriental Soup & Peanuts
Main Course: CauCau served over Fried Potato
Served with: Fried salami, Vegetarian Lentil Stew
Dessert: Mud Cookies
*LATE IN THE TRIP DINNER*
Norte Americano
Appetizer: Popcorn or Snack Mix and Soup
Main Course: Baked Beans con Spiced Vegetables
Served with: Sausages, Fried Potatoes
Salad: Mexican Slaw
Dessert: Chocolate Puddin Pie
LUNCH

Taco Salad – Served with: Flour Tortillas, Tortilla chips or tostidos,Romaine Lettuce, Salsa, Rajas, Cheese, cookies
Chinese Chicken Salad (vegetarian option as well)
Pasta Salad – Served with: Salami, Rajas
Sandwich Lunch: Hummus con cucumbers on crackers & Tuna sandwiches. Served with: Pringles, Fresh and/or Dried Fruit, cookies
Trail Lunch: crackers, cheese [hard cheeses], PB, hummus, GORP, salami, sunflower seeds [high in fat, cal & nutrients], dried fruit, fresh fruit, cookies, candy, etc…
NOTE: Every Day have PB&J sandwich option
BREAKFAST

Fresh Fruit, Breakfast Pan Dulce, Hard-boiled Eggs, Granola Bars
Seasonal fresh fruit, yogurt, granola, cereal, milk, sweet breads
Breakfast Polenta (nuts, fruit, spices, honey, corn grits)
Fresh Fruit, Fried Egg Sandwiches
Fresh Fruit, Home-made hash browns (cook potatoes nite before)
Tex-Mex scrambled eggs
Banana Pancakes topped con honey, jam, syrup
Generic Breakfasts: Fresh Fruit, Assorted Cereals, Granola, Oatmeal, Milk
ENJOY and I hope this helps you plan for upcoming trips. You can find many of these recipes in my cookbooks and keep an eye out for another cookbook in my series. I am currently working on a Latin version – all recipes for foods you can buy in Mexico, Guatemala, and Peru.