After nine months of boating in the western United States, Mexico, and Guatemala my funds have dried up, so it's time to go back to work. I am heading out to Colorado to guide for Adventure Bound. This means I will be living in my "second home" once again.  As I write this I am two days away from moving into my second home.
My second home is a pop-up camper mounted on a trusty Toyota Tundra 4×4 Access Cab with a V-8 engine. I bought this "second home" over ten years ago and it has been one of the best things I have ever purchased.
Here are some facts about my home on wheels…
13 Square Feet of floor area (maybe)
Fuel – Gasoline low MPG for a powerful truck
Power – 12 volt auxiliary battery powers all systems
Stove – Propane 2 burner
Refrigerator – Runs on either propane or electric
Water – 1 water tank, 10 gallons of available water
Heat – Climate controlled (Hot in summer, Cold in winter =)
Air Conditioning – Hah! 1 ceiling fan in the roof, 1 large window
Bed – Queen size with Memory Foam
Shower – Solar Shower
Boat Fits Inside Car!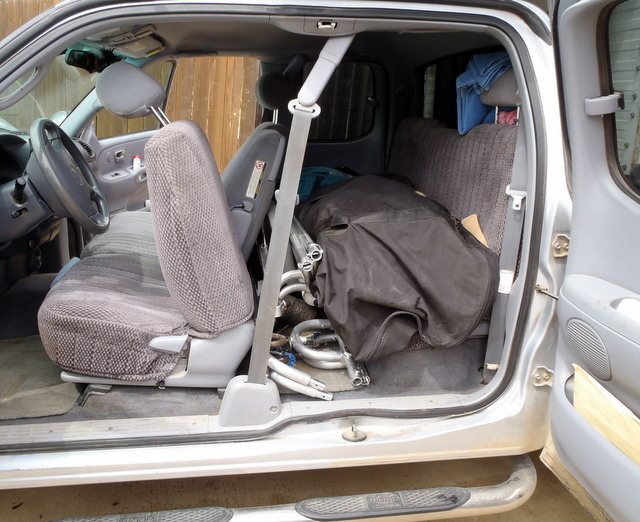 Check it out. My two cataraft tubes and the frame are inside the truck. This is my Toyota Tundra with my boat stowed behind the front seats. Inside the black bag are both cataraft tubes. On the floor is my new aluminum break down frame. I think I'll like this new set-up!
If you find yourself this spring/summer in the southwest, look me up at Adventure Bound in Grand Junction, Colorado. I will be guiding for them on the Green and Colorado rivers.