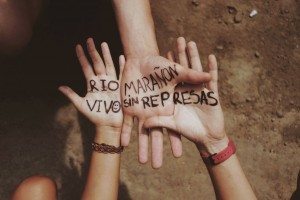 There's a Ben Harper song that continued to run through my head as I rowed the Rio Marañón in Peru last summer. The chorus, I am blessed, I am blessed, I am blessed to be a witness, played over and over again, through countless rapids and lulls of flat stretches. Do you know the song? The Rio Marañón is located in the Andes of Peru and is the main-stem source of the Amazon. The first time I heard about the river was in 2012. I've returned to it every year since 2013 and have been fortunate enough to have the time, the health, and the resources to experience the Upper Amazon (Rio Marañón) many times now. So you have to agree, I am blessed, which is why the song resonates with me so strongly. But you may be wondering what I mean by, to be a witness?
I was a bit naïve on my first trip. I went solely for the thrill of whitewater and to experience the exploration of an exotic and little known river that's threatened by the development of 20 dams. I walked away from that first take-out with a much more powerful feeling than the fleeting adrenaline of running whitewater. I realized just how important the river is to the indigenous Awajun living in the jungle. They depend on the river's bounty to sustain their traditional way of life and know the development of dams will destroy their ancient culture and centuries-old techniques of living off the land. They're fiercely defending their territory against this development.
I must warn you: if you venture into the very lower reaches of the Marañón, deep in the jungle, be careful. We thought we had the correct permission once. We did not. Our group was detained and put on Tribunal.