"Thank you for expressing an interest in the Women´s Peru Expedition happening in 2015, this is the 1st update."
So began my letter to interested participants in an all-women river expedition planned for 2015. I was about to take-off to Peru for my second trip down the Rio Marañon (the mainstem source of the Amazon river).
My letter to potential participants continued.
"I am leaving for a reconnaissance expedition next week. This year I will be running 500 kilometers (≈ 300 miles) on the river. The main purpose of this year´s expedition is to get some additional information about the section of river I want to run for the Women´s Expedition in 2015. This year´s reconnaissance / investigation expedition will have the following focus, to investigate some trip details such as: rapid ratings with the lower summertime flows, utilizing different put-ins and take-outs, checking out more hikes, and to continue good relations with the local people who live along the river banks. In September of 2013 we did 666 kilometers (≈ 400 miles) on the Upper Amazon, so this year will be my second time on the river.
To give you an idea of what the Upper Amazon is like, please read the following articles I wrote for NRS "Expedition to the Grand Canyon of the Amazon" and "Peru´s Rio Marañon: Is it another Grand Canyon?" (note: the 2015 trip will put-in below Wasson´s Landslide)
Another reason I am very motivated to get back to Peru, this year, is to check on the progress of the hydroelectric dam scheduled to begin in 3 months. I want to see what stage the Chadin dam is actually in; I want to see with my own eyes. Like many rivers in the world, the best section is in danger of being ruined (but dang-it this is the headwaters of THE AMAZON!). Our 2015 trip could truly be a "trip of a life-time" because it may be the last time this section of river can be run. Please consider joining the conservation efforts being made by International Rivers International Rivers for the Rio Marañon."
The following photo essay is from the June reconnaissance trip to the Upper Amazon.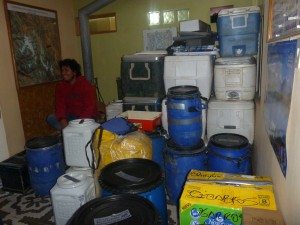 Pedro sitting amongst a small portion of our expedition camp kitchen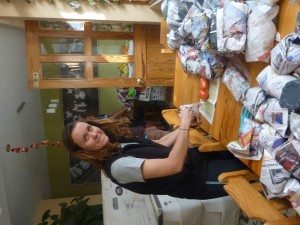 and more prepping for the river camp kitchen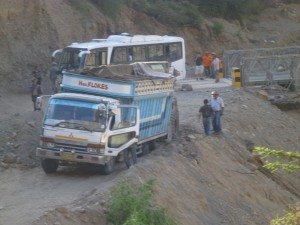 Getting closer to the put-in, but we had to wait for these truck drivers to dig themselves out of the loose soil.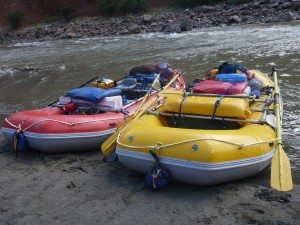 Finally at the put-in. This is a photo of two SierraRios rafts. These will be rented for the 2015 all-women trip.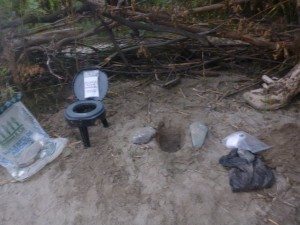 The outdoor latrine system on a SierraRios expedetion in Peru.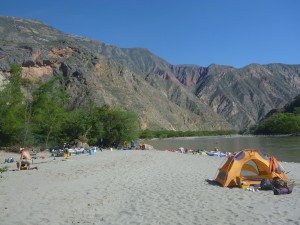 lots of big sandy beaches to camp on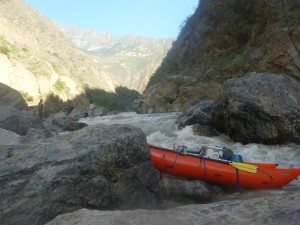 Wasson´s Landslide Rapid is a long class VI that requires portaging for most of it. We will not be doing this section for the all-womens trip in 2015. But I have done it twice now and am very happy to have experienced it. Someday soon I imagine a hard-core class IV thrill seeking kayaker will run the entire thing.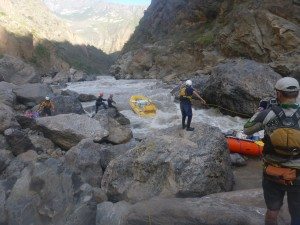 Cooperative teamwork is needed to portage and line an expedition around this monster of a rapid – Wasson´s Landslide.
It got dark on use while we where portaging and lining Wasson´s Landslide so we each found a spot to settle for the night in the major landslide of a hillside. This is one of our tents camped out in the rocks for the night.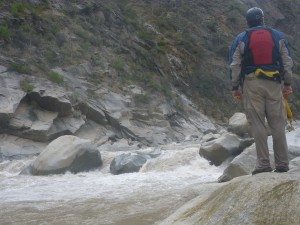 Llamara Rapid is the next big class V rapid to negotiate for this upper section of the Marañon (we will skip this section in 2015).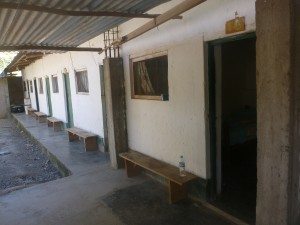 Finally to the town that the 2015 trip will begin – Chagual. Where we can stay start our trip by staying in this hostal or camping on the beach put-in.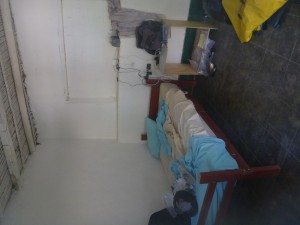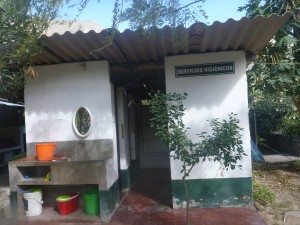 My investigation (and second trip) on the Rio Marañon was very encouraging. Yes, I think an all-women trip down here would be a lot of fun. So upon my return a second letter was sent off to potential participants.
"Our trip went well on the sections that we will be doing in 2015. We had good weather the entire time. The river and rapids during June are mostly class I, II, and big wáter class III. There were only a few long class IV´s. Anyone with experience rowing or paddling the Grand Canyon or Middle Fork Salmon should be able to row / paddle the sections we will be doing in 2015. The people we encountered along the river were friendly; shuttles and equipment rentals went fairly smooth. The construction of the Chadin II hydro dam was not evident. There is still no road into the dam área, but there is a new office and work site in Balsas."
Following are a few pictures from the section we will be doing in 2015 – enjoy. And drop me a note if you are interested in coming along.