Location: Tlaplaneco-Mezcala River in the state of Guerrero, country of Mexico
Boaters: Rocky Contos (kayak) and Lacey Anderson (cataraft)
Total Miles: 224 K (about 140 miles)
Days: Five
Class: III – IV
Date: September 23 – 27, 2011
First things First.
We hired Antonio (a local taxi driver) to drop us off at the put-in and then pick us up 5 days later at the take-out.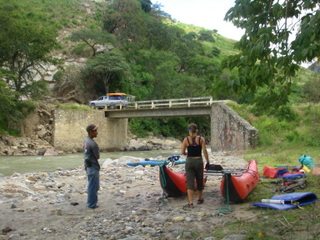 Once we found the correct location for put-in, it was pretty easy to haul my equipment down and start assembly of my cataraft. Some locals came
by to chat and watch me set up my cataraft.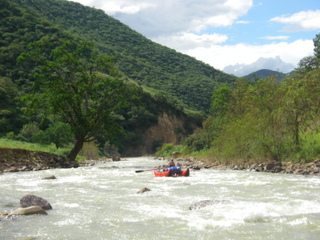 Rapids just below the put-in; fun class II – III.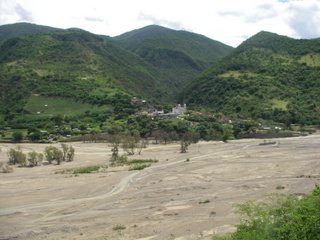 The river began to get larger the further down stream we traveled because of the multiple sidestreams. The channel was also getting larger as this photo demonstrates. The river has swollen to stretch from bank to bank. It was still fun class II with some easy class III rapids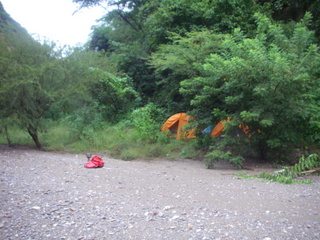 Many of the rivers in Mexico are done during the monsoon season. When there is enough water in the rivers to make them raftable. Whenever possible we wanted to camp on a high bench because the river can rise in a matter of a few minutes during the rainy season.
But Sometimes
we could not find a spot any higher than this photo shows.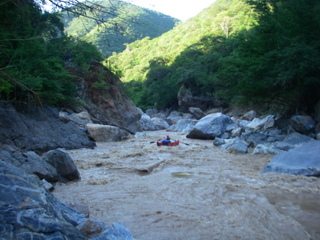 The river narrowed into a boulder choked gorge. The rapids quickly changed from class III to class IV. There were many blind corners, technical manuevers, and big holes.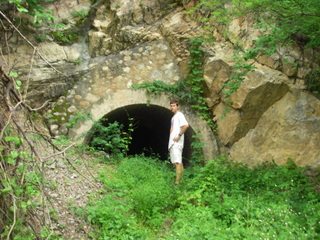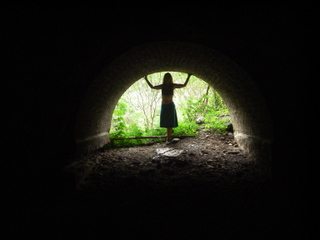 After camping in the class IV gorge and exploring by foot up a sidestream the next morning, we found this abadoned mine. Rocky went in a ways, but was chased out by hundreds of bats.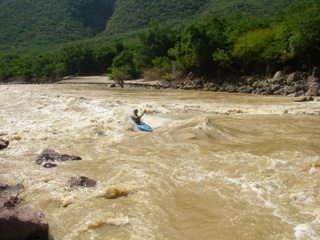 Sweet surf spot!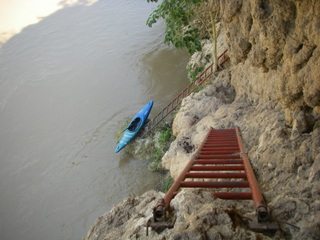 Rocky found these stairs lead to a cave.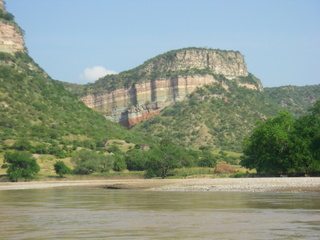 Reminded me of cliffs in sections of the Grand Canyon.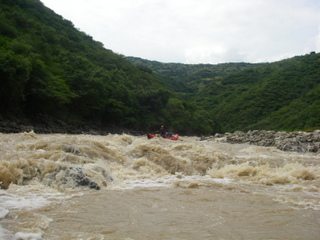 About to drop into another rapid.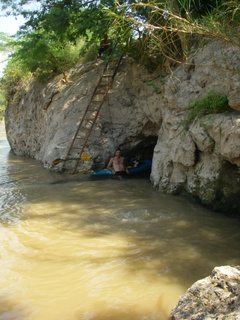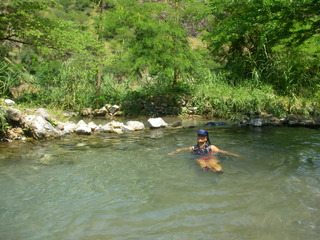 There was a riverside hot spring, including a hot spring cave and then upon climbing up the cliff yet another giant soaking pool.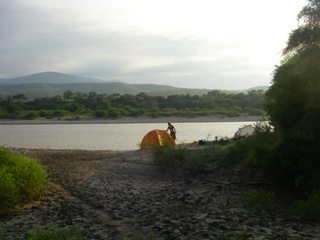 The last camp on yet another wonderful first descent in Mexico.