It's been 10 years, let's do it again!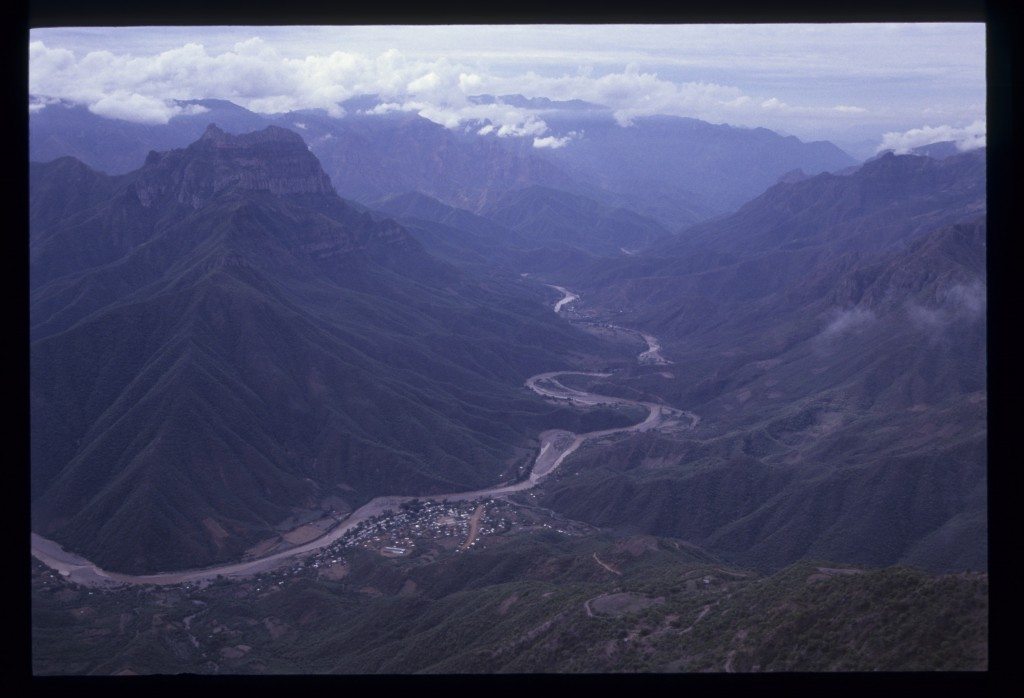 Doug Rhodes of Pariso Del Oso and I organized the first commercial descent of the Urique river in Copper Canyon, Mexico. After the adventure Doug wrote the following article. I am thinking about running this river again in 2013. After reading this account from 2002, if interested in joining me for 2013, respond in the comments and follow this blog for upcoming dates.  
Urique to Tubares, July 22—27, 2002
An international team gathered at the Hotel Paraiso del Oso Monday July 22ndfor the first commercial descent of the Rio Urique. A familiarization descent for guides the previous week had turned into a 3-day raft drag with little water and people doubting the river's potential. Seasonal rains began the day after that first descent (they started 3 weeks late this year), within two days the swollen river was ready!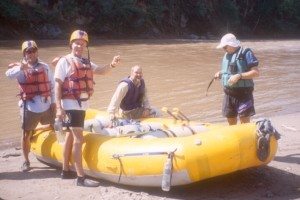 Lacey Anderson of Travel Afoot planned and lead a select group of highly skilled clients for this trip and was in charge of guiding on the river. Boat guides were Lacey, Martin Wong, and Edgardo Melgoza. Edgardo owns Guias Azteca, an adventure sports company in Mexico City and is also preparing an article on the descent for the magazine Mexico Desconoscido . Alejandra Villalobos of Chihuahua Expeditions and Natalia Solis handled both food planning and preparation. Doug Rhodes of Rancho del Oso was local expert liaison. Neil Nikirk, Representative for Air Rafts,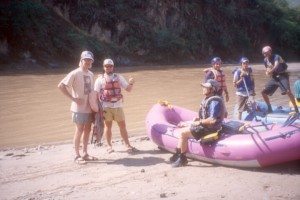 arranged for the loan of two demonstrator boats, a 13-footer, and a 14-footer. The Chihuahua department of Tourism loaned a 13-foot NRS, Martin Wong of PRAE loaned river gear. Rancho del Oso and Chihuahua Expeditions provided additional river gear and camping equipment. Clients were Richard and Norm Dalton, Hal and Lance Newman, and Ken Bauer. Doug's son Hugo joined the group making three father-and-son teams.
A vehicle tour to Urique started the 23rd, a first view of the river from the Canyon edge brought shouts of joy and anticipation. The river was running full! At Cerro Gallegos the expectancy built as sounds of the roaring river reached the lookout. After descending by vehicle over a mile, the group put in at the Guadalupe Bridge for a short introductory run on the muddy Rio Urique. Easy class II and III rapids got everyone wet and ready for some serious rafting.
July 24thwas the day for that serious rafting and for a thrill or two. After a filling breakfast at the Plaza Restaurant, gear was checked and boats put into the water. High water brought numerous class III rapids and one or two IVs near Guapalaina. We met our cargo truck at road's end in La Laja; high water had foiled plans to haul cargo by mule downstream past the class V Dos Arroyos rapid. Gear strapped in, a final snack of cold soft drinks and cookies raised energy levels for the Dos Arroyos challenge, 45 minutes downstream.
Stopping and scouting the rapids resulted in a plan for running them; tricky moves would be needed. Lacey headed up a team of top paddlers Edgardo, Ken, Martin, and Neil;
they would run each of the boats through the rapids fully loaded with cargo. (Whew! no more heavy cargo portages, thank God.) Lesser mortals stayed on the bank providing photographic and rescue support.
The yellow Air provided a few anxious moments when it hung up in a hole but then made the run without further incident. Then the purple Barney Boat (another Air) made the run look easy. Lacey's guiding luck ran out when the NRS entered a hole and flipped before anyone could react. Rafters flew everywhere with only helmets showing above the rapids. Good luck combined with quick action by the rescue folks got everyone safely ashore; Martin saved the day by rescuing the raft as he swam.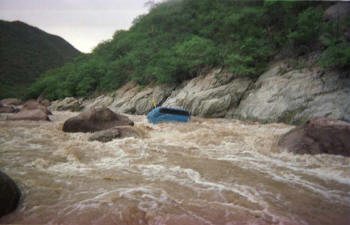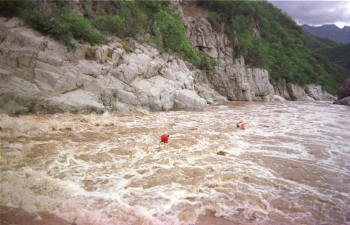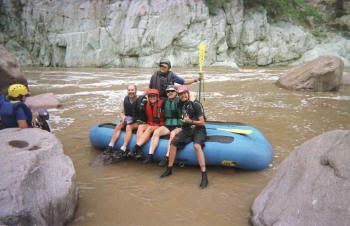 A few congratulatory photos of the survivors were taken, gear relashed, then back into the river… Oops, Alejandra flipped out of her raft and enjoyed a swim through the Lower Dos Arroyos rapids section. None the worst for wear. Shortly after passing Vado de la Cueva the dark clouds opened with torrential rains forcing everyone to shore for shelter.
Rains over, we made camp in the sands just below El Llano. Lance joined in with Alejandra and Neil in preparing a delicious steak and wine dinner that recharged batteries. Triple canyon rim waterfalls formed a distant backdrop to the camp but lasted only a few hours following the rains.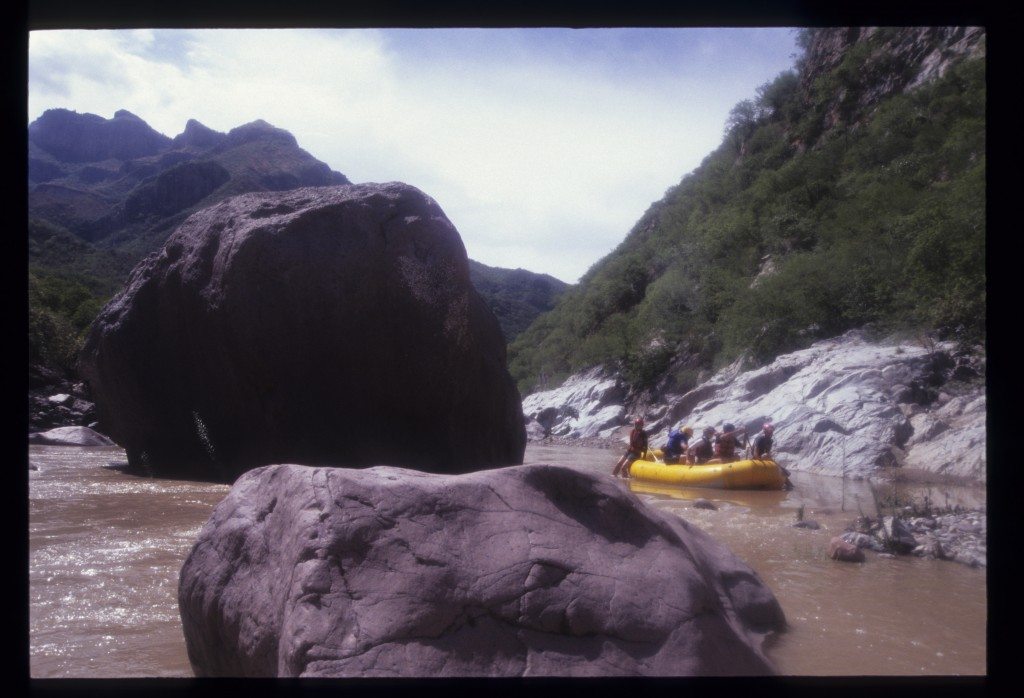 A leisurely breakfast and a late start enabled us to arrive at Carrizal for lunch at the only store on the river run. We were quite a hit with local children but no rides this time, the river Gods forbade it. With the most challenging rapids behind us, guides began giving up the stick so others could gain experience. Mostly class II and IV rapids combined with beautiful panoramas to provide a beautiful and relaxing run. We pulled out of the river to visit friends at Cuesta Colorado before continuing to a riverside camp below Aguajito.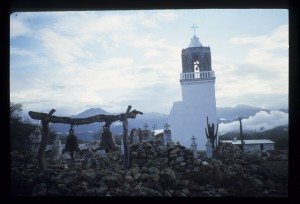 From Aguajito it was a few hours to the confluence of the Rio Urique and El Fuerte rivers then a beautiful and relaxing float downstream to the historic mission town of Tubares for our pullout followed by a tour of the mission ruins and a dramatic 5-hour vehicle drive out of the canyon, past the abandoned mines at Piedras Verdes, and on to the Oso.