We had just completed 150 miles on the Mulatos-Aros River in northern Mexico. It was August of 2011 and since May of 2011 I had completed nineteen river runs, most of them  multi-day wilderness trips. The Mulatos-Aros was the first of many international runs I was looking forward to.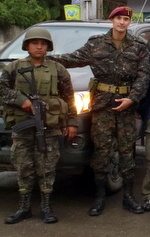 We had an excellent adventure and everyone had a great time on the Mulatos-Aros (see Part I). Next, our plans were to drive east over to the Conchos River. However, we decided to skip the Conchos River because if we had attempted to cross the border into the state of Chihuahua, our friend's trailer (with most of the groups rafting equipment) may have been confiscated. Border patrol may have asked to see the registration for the trailer and since it was not registered in his name we may have risked them confiscating it. We all decided it was not worth it. Oh well! I was not too disappointed because I had another six months free to roam. Lesson number I: before leaving the USA to cross into Mexico, make sure all your paperwork is in order.
The rest of our group decided to head home to California, Rocky and I decided to head south, further into Mexico. We were traveling  in my trusty 4×4 truck with my small cataraft, Rocky's kayak, and all the gear needed for running multi-day wilderness trips. Rocky Contos is the best kayaker I know, fluent in Spanish, and a modern day explorer. He has been doing first descents all over Mexico for the last thirteen years and is the author of "Mexico Whitewater: Norte". Lesson number II: surround yourself with experts.
Next stop was the Baluarte River. It had been run once before in 2009; there are no other known descents. We stopped in Mazatlan to pick-up a shuttle driver. Lujano, a Mazatlan city taxi driver, was willing. Our shuttle would depend on if I trusted Lujano with my truck. I thought to myself, "but of course, let the driving adventure begin." Lesson number III: a city taxi driver will do your shuttle in Mexico.
We drove two hours east of Mazatlan through the Sierra Madre mountains along a winding two lane paved road and then an additional four hours down into steep canyons on a rough, rock strewn, single track, loose gravel and dirt road to arrive at the Baluarte put-in. Lesson number IV: when exploring, the road may be more difficult than the river.
When we finally got to the put-in the river was very low, maybe 200 cfs, but we were not discouraged; as I rigged my cataraft it was sprinkling. Also, before leaving Mazatlan Rocky consulted the CNA precipitation maps and it looked like a rainy pattern was building up. We launched and began our journey. That night at camp it did rain and the water came up quickly, but it slowly dropped during the night. In the morning we had about 400 cfs. We enthusiastically carried on. We were betting on the numerous storm clouds to rain down and the many side creeks along the run to bring the water back up. Lesson number V: it is tough to turn back when it has taken days of preparation and a long difficult drive to get to put-in.
To make a long story short, the river never did come up. Lesson number VI: when faced with extremely low-water at put-in, consider altering plans.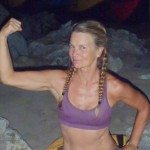 Every night we experienced a spattering of rain drops and could see colorful lightning displays in the distance, but we never received the much needed downpour. There was no turning back, we were in the middle of an isolated river canyon, with no roads in or out once we entered the inner gorges. Our Baluarte expedition turned into an amazing example of what can be accomplished on challenging rivers. Lesson number VII: exploring requires having an attitude of – we can do this no matter what!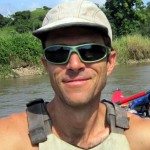 In reality, we did have enough water to weave our way through many fun rapids, but many more were quite challenging. We had to push, pull, "Flintstone", swim with, line, and portage my cataraft. If we had just a bit more water it would have been fantastic, but alas, the rains and the swollen side creeks never materialized. Rocky had an easier time with his kayak. He smoothly maneuvered his kayak through all the low-water rapids. He never once complained about the difficulty of getting my cataraft down the river. Lesson number VIII: make sure your boating partner(s) are even-tempered and skilled boaters.
I really did not mind all the hard work because this was such a unique adventure and one of the most beautiful river canyons I had ever seen. The canyon scenery was stunning, reminiscent of Thailand, not what I expected in Mexico. There were dozens of towering limestone pillars covered with vibrant jungle foliage. Green military macaws soared among the rock towers. Exotic purple and red flowers were sunning themselves everywhere. One of the gorges we traversed was full of giant two story tall boulders, I felt like Alice in Whitewater Wonderland. I was in awe of such beauty. Lesson number IX: Mexico has some untouched wilderness areas.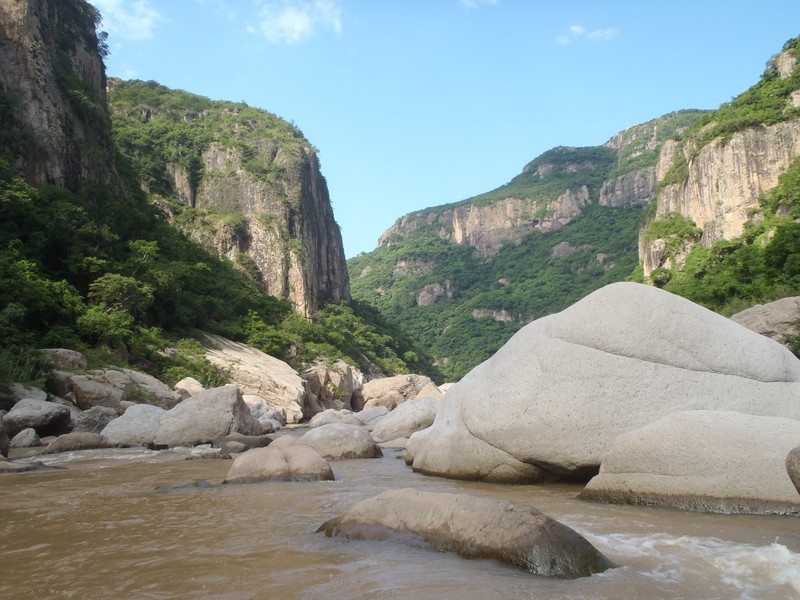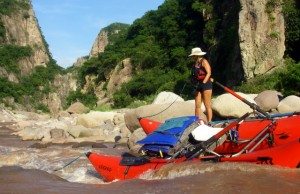 At the take out, we decided to keep driving south until we found a drainage that had a boatable water flow. Unfortunately, many areas of Mexico were experiencing a severe drought (perhaps the worst in a century). We had to continue south past Mexico City to find an area unaffected by drought. We headed toward the Tlapeneco-Mezcala river in the state of Guerrero. This undiscovered gem would be a 140 mile, five day journey with sections that had never been run before. Lesson number X: I enjoy running uncharted rivers, where my skills of read and run (or push, pull, line, and portage) are tested!