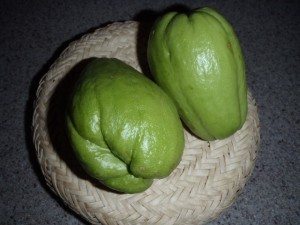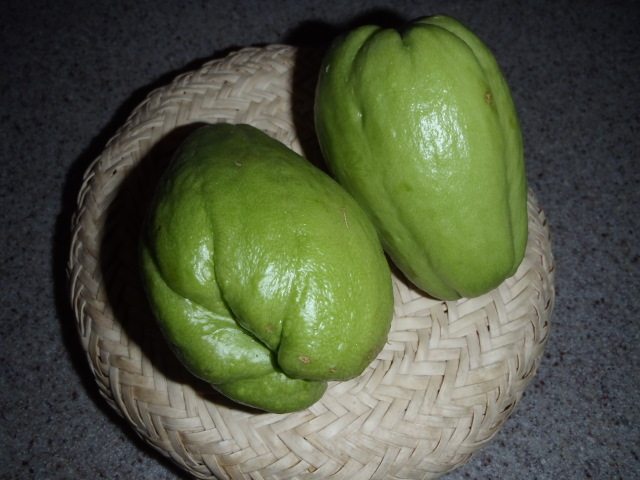 The chayote can be eaten raw or cooked. It will keep for at least one week (probably much longer) without refrigeration. It is a mild flavored vegetable that taste something between a cucumber and an apple. I have been experimenting with it these last two weeks and am delighted with what can be done with the versatile chayote!.
Here is a recipe I will be serving while guiding the Mulatos River in Mexico next week – enjoy.
Creamed Chayote (2 servings)
1 fresh chayote
1 tablespoon butter
1 tablespoon flour
1 cup milk
ground pepper
Chayote: Peel and chop one chayote, cut into 6 or eight wedges, depending on size of chayote, then cut each wedge into three. Boil chayotes in water for 8 to 10 minutes.   
White Sauce: Melt butter under low heat, once melted remove pan from heat. Add flour to melted butter, stir vigorously until well combined. Add some of the milk and stir well to integrate. Then add the rest of the milk under a medium heat and stir continuously bringing to a gentle boil. Cook at a low heat until the consistency you like your white sauce. Crack in some black pepper. 
To Serve: To the cooked sauce, add the cooked, drained chayotes. Stir so all the chayote is covered with the sauce.
NOTE:  This is the version of the recipe I use at home, but my upcoming cookbook will have the "no coolers" version (no butter or milk to ice/refrigerate).