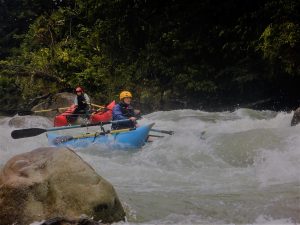 Join us on a self-support trip to Ecuador this winter. You make all the flight arrangements and get your boating equipment down to Tena or Baeza. Not sure that you can travel with your equipment? Rental is available or purchase one of Neil's "International Travel" cataraft packages. These are the same boats we took down to Ecuador in 2016 and they work great!
In fact, there is one package down there just waiting for our return! It may be available as a rental in 2017.
The rivers will be mostly day trips with a return to town every night, so food is on you, but you can eat well on less than $10/day. For a small fee, I will arrange your lodging in a comfortable hostel, plan and lead river trips including the transport, and facilitate transport between boating areas as required.
Ecuador is one of the best boating destinations overseas. This South American country is relatively easy to get to with a variety of airlines providing service into Quito and Guayaquil. Lodging and food is very affordable. Transport is easy with 4-door trucks serving as taxis. Money is a no-brainer, everything is in U.S. Dollars! And the rivers? Fantastic! Everything from placid jungle floats to Class V+ kayak-only runs. For us rafters, there is a wide variety of runs in several parts of the country ranging from big-water Class III to creeky Class IV+.
Weather and water permitting, here are some of the rivers we may be able to run. The descriptions are my impressions from running them in 2016, often at different water levels.
FOR MORE DETAILS
about how to join and which rivers we plan to run
and then click on the ECUADOR tab
or use the Contact Page for questions and inquiries